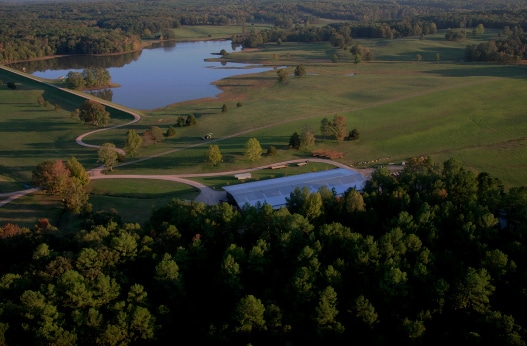 Ford and the University of Tennessee Institute of Agriculture announced a collaboration at the 2022 Memphis International Auto Show this week. Together they will be working on a stream mitigation and restoration project, and will be cooperating to restore the stream that runs through the university's Lone Oaks Farm.
The Lone Oaks Farm is a 1,200-acre facility located near Memphis and Ford's BlueOval City that UT Extension is in the process of converting into a world-class 4-H and STEM Education Center. The education programs at Lone Oaks already host nearly 5,000 K-12 students every year, and the new facility, which will even include overnight camps, will allow the program to grow and promote STEM education.
"In addition to restoring the stream, this partnership will create additional opportunities for our UT Extension professionals to develop STEM programs with an emphasis on workforce skills and preparation for higher education. As the needs of employers in the region and state change, we are tailoring our educational programs to match those needs," says UT Extension Dean Ashley Stokes.
The Clean Water Act of 1972 states that any impact on water sources, like streams and wetlands, from construction and development projects has to be offset by efforts to restore and permanently protect an equivalent amount of the habitat somewhere else. Ford needed to undertake a significant stream restoration project as a result of the development of Ford BlueOval City, and UT Institute of Agriculture's restoration at Lone Oaks Farm provides the perfect opportunity for Ford to give back to the community and the environment with a restoration project on the stream at the Lone Oak Farm. The agreement between Ford and UT Institute of Agriculture totals 16.5 million USD, and will restore about 20,000 feet of streams on the site while providing long-term financial sustainability for Lone Oaks' educational programs by investing the project's residual funds to support education programs at Lone Oaks Farm going forward.
"At Ford, our goal is to create a positive impact on people and the planet. We're proud to enter into this innovative partnership with the University of Tennessee that will help restore and protect the streams and wetlands at the Lone Oaks Farm and create educational opportunities that will inspire and benefit future generations," said Bob Holycross, vice president of sustainability, environment and safety engineering at Ford. "This is just one way we can fulfill our purpose to help build a better world."