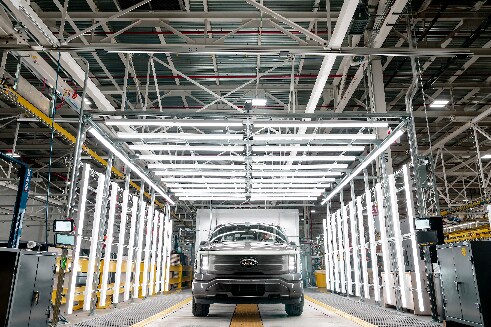 Get ready for lightning to strike: the all-new, all-electric Ford F-150 Lightning is finally beginning production at the Rouge Electric Vehicle Center in Ford's historic Rouge complex. The F-150 has been America's best-selling truck for over 45 years, and this new electrified version of the long-time favorite is about to make a big splash.
"Today we celebrate the Model T moment for the 21st Century at the Rouge Electric Vehicle Center," said Ford Executive Chair Bill Ford. "The Rouge is where Ford perfected the moving assembly line, making it a fitting backdrop as we make history again. The stunning anticipation for F-150 Lightning is a credit to the work of our Ford engineers and designers, and the UAW team members who are building these trucks with pride."
The Ford F-150 has always been a popular choice among American consumers. A study conducted in 2020 even revealed that only the iPhone beats the F-150 in terms of revenue out of all American consumer products. Even with this existing popularity, however, no one expected the demand for the F-150 Lightning to be quite so high. Ford has taken more than 200,000 reservations for the truck so far. Three-quarters of the reservation holders do not currently own or lease a Ford vehicle, and many have never owned, leased, or even driven an electric vehicle before at all, meaning that the truck is driving up plenty of new business.
This high demand for the vehicle even before production began has meant that Ford has needed to expand the Rouge Electric Vehicle Center in order to keep up.The total investment in the expansion project came to $950 million. The F-150 Lightning has also helped to create 750 new jobs assembling the truck at the Rouge Electric Vehicle Center, as well as 1,700 additional jobs at other Ford plants throughout Michigan, such as the Van Dyke Electric Powertrain Center and Rawsonville Components Plant, both of which provide components specifically for electric vehicles like the F-150 Lightning. Ford is currently on track to be delivering over 2 million electric vehicles every year by 2026, and current projections estimate that electric vehicles will make up 50% of Ford's global annual volume by the year 2030.
"It's not every day that you get to launch a truck that will change the way Americans feel about electric vehicles," said Linda Zhang, F-150 Lightning chief program engineer. "The team has done a phenomenal job ensuring we are offering customers unique features only made possible by the electric power unit."