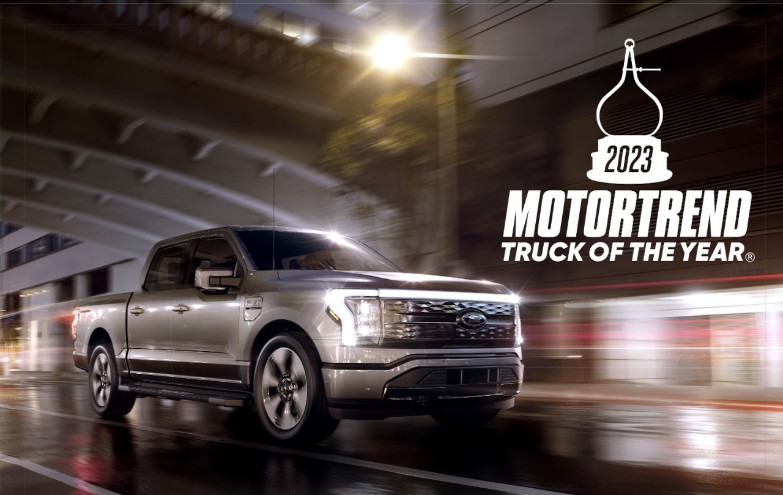 Ford recently reported that the innovative F-150 Lightning was unanimously voted the 2023 MotorTrend Truck of the Year! This victory marks the first time an electric truck won by a unanimous vote among the judges. It's also just the second time an electric vehicle has won unanimously in the history of MotorTrend's Of The Year competitions. The Lightning also bested contenders this year from Chevrolet, GMC, Ram and Toyota, and it follows last year's win by another electric truck, the Rivian R1T.
"It's really brilliant for the team that Lightning is the first EV truck to win by unanimous vote," stated Darren Palmer, vice president, electric vehicle programs. "This truck is full of firsts, and this one is really special to add to Lightning's historic launch."
The F-150 Lightning also won the title of America's best-selling electric truck this past November, with sales amounting to 2,062. Since the pickup truck debuted in May, further sales have totaled a whopping 13,258. The extraordinary success of the F-150 Lightning has contributed to Ford being the No. 2 EV brand in the U.S. year to date.
Considering the sheer performance and versatility that electric power offers, battery-powered trucks might seem like easy candidates for awards like this, but they do face one serious challenge, said Ed Loh, head of editorial for MotorTrend. Electric pickups are great for towing because they can easily handle even very heavy trailers, Loh said, but pulling that weight reduces driving range before the truck needs to recharge.
"The F-150 Lightning and its nearly instant torque with ride and handling make it without a doubt the best truck Ford has ever made. If that feels like a bold statement, consider that amongst our judges, the F-150 Lightning won Truck of the Year by unanimous decision–the first EV truck to convince all judges across the board," said Ed Loh, MotorTrend group head of editorial. "The Ford F-150 Lightning is no less than a milestone achievement in the history of American mobility."
Ford is already increasing production to deliver 150,000 Lightning trucks every year by the end of 2023. The Ford Lightning performed wonderfully in all of MotorTrend's key criteria: safety, efficiency, value, advancement in design, engineering excellence, and performance of intended function. Ford is already increasing production to deliver 150,000 Lightning trucks every year by the end of 2023.
Despite an increase in the initial price for the 2023 model, with a starting price of around $52,000 it remains the least expensive EV truck on the market by almost $20,000.
To keep up with all the super-charged developments of Ford's all-electric models like the F-150 Lighting, keep reading our blog at Haldeman Ford in East Windsor! You can also browse our latest models for more information on all of Ford's cutting-edge vehicles!