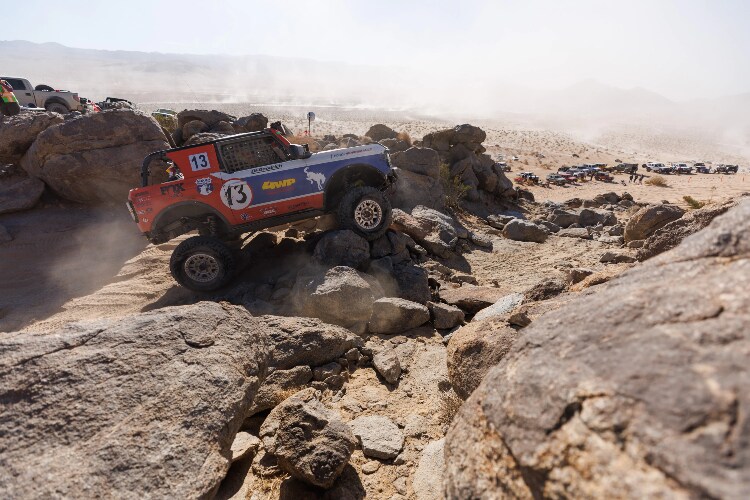 Almost exactly one year after its debut at the King of Hammers race weekend, the Bronco has completed a podium sweep win, solidifying itself as an off-road racing legend. The Bronco Raptor, which was only just revealed last month, was onsite in Hammertown as its predecessor raced to victory.
The King of the Hammers race in the Johnson Valley in California is known as one of the most challenging and intense off-road competitions in the entire world. The Bronco was crafted for desert conditions like the ones found here, and the 1-2-3 sweep that it completed in the ULTRA4 4600 stock-class makes it clear that Bronco was in its element at this race.
"With a commanding 1-2-3 finish at the King of the Hammers Ultra4 stock-class race, Bronco Brand and Ford Performance are proving that Built Wild capability, durability and innovative design are second to none," said Mark Rushbrook, Ford Performance Motorsports global director. "Our Bronco 4600 racers continue to elevate our motorsports heritage and further underscore how Bronco models can be tuned from the showroom floor to compete in the grueling ULTRA4 stock class series."
Each of the winning Bronco 4600 race vehicles were built from factory stock Bronco two-door chassis. A racing 2.7-liter EcoBoost® V6 engine with a competition-tuned High-Performance Off-Road Stability Suspension (HOSS) System powered each vehicle. The teams this year featured several off-road racing veterans, such as two-time King of the Hammers champion Loren Healy and three-time King of the Hammers champion Jason Scherer. The top spot in the ULTRA4 4600 stock-class was taken by the team of Vaughn Gittin Jr. and Loren Healey, driving the No. 2567 Bronco 4600. Brad Lovell and his brother Roger Lovell took second place in the No. 4621 Bronco 4600, while Bailey Cole and Jason Scherer came in third with the No. 13 Bronco 4600.
This Bronco triumph is only part of Ford's growing presence in the off-road enthusiast realm lately. Ford also recently stepped up to be the official truck and SUV of SCORE-International Off-Road Racing, which is responsible for the Baja 500, Baja 1000 and San Felipe 250 championships, as well as serving as the official vehicle of Best in the Desert. The King of the Hammers victory is just another example of Ford and the Bronco brand's prowess in both off-roading and racing.