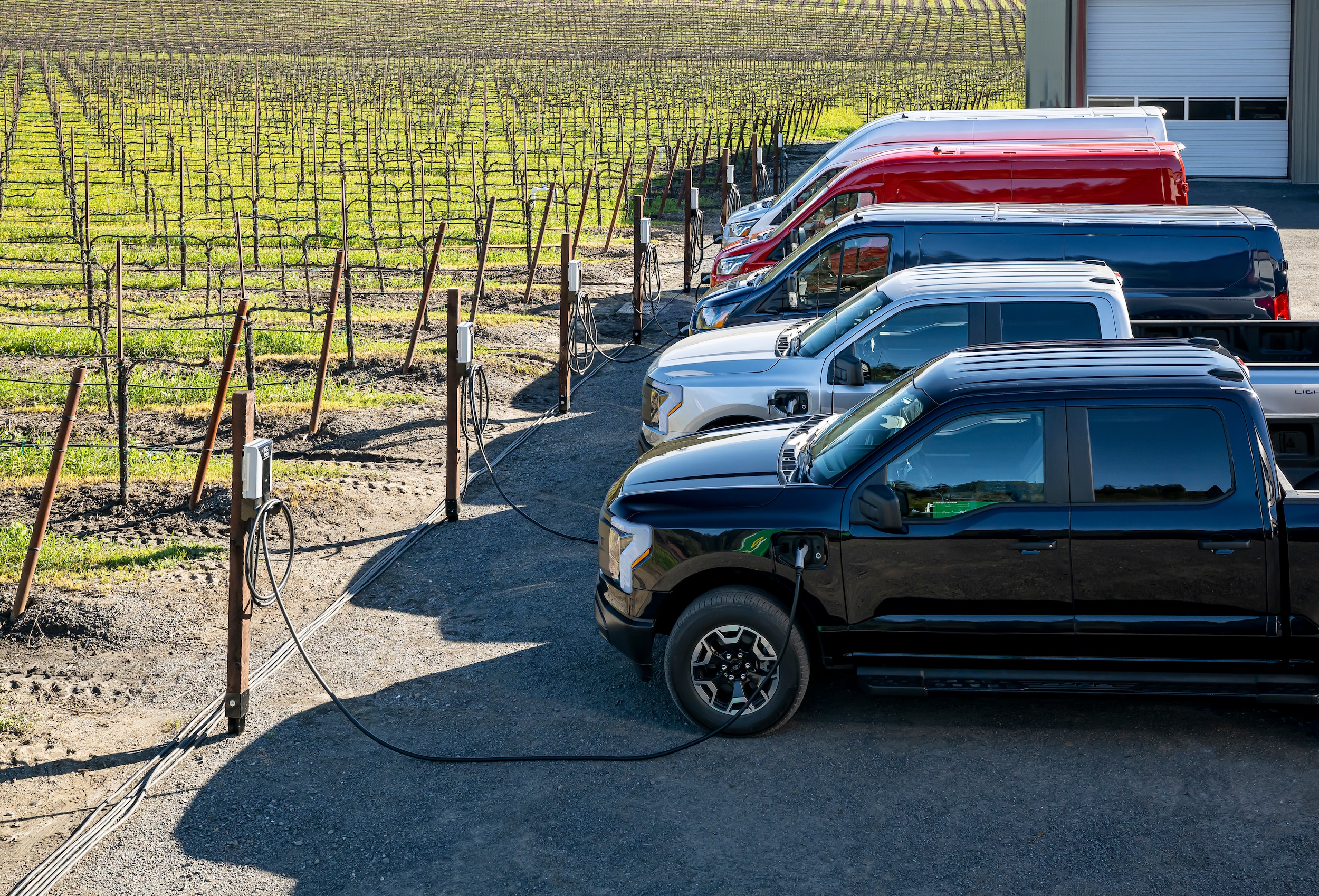 Ford Motor Company and Sonoma County Winegrowers have a common ground in that they are both committed to revamping their production processes in order to be more sustainable. With this in mind, it makes sense that Ford has recently announced the launch of a pilot project with the northern California grape farmers.
The main purpose of this project will be to demonstrate how electric vehicles and web-based fleet management tools can be used effectively in the agriculture industry to increase productivity, improve sustainability, and lower the total cost of fleet ownership between 10% to 20%. To this end, F-150 Lightning Pro trucks, E-Transit cargo vans, and Ford Pro Intelligence products and services will be introduced to three selected farms in Sonoma County to be used in their regular operations.
Winegrowers on farms of all sizes are heavily reliant on their vehicles, making grape farming an ideal industry for this project. They use them to haul equipment or materials like fertilizer, water, or portable bathrooms. The vehicles can log a lot of miles traveling between properties as well, and maintaining and operating these vehicles is a major expense. At Dutton Ranch, one of the farms chosen for the Ford collaboration, the fleet consists of about 70 work vehicles, and it costs an average of about $5,000 a month to fuel them. The use of electric vehicles, which already cost less on average to fuel, along with solar power, which many Sonoma County ranches already generate and store, would be able to reduce this cost dramatically. Additionally, the use of Ford's vehicle management technology would allow these winegrowers to use maintenance schedules, vehicle tracking, state of charge and range reports, and vehicle alerts to maximize each vehicle's range and minimize their downtime for charges and maintenance, further increasing their productivity as costs are reduced.
The three locations chosen for the program are Bevill Vineyard Management and Vino Farms in Healdsburg, and Dutton Ranch in Sebastopol. The project is expected to expand to other locations in the area over the course of the next few months. The three current farms represent about 4,000 acres between them, and the addition of Ford electric vehicles to their fleets along with regular consultations with the Ford Pro team and use of Ford's vehicle management software will be helpful in reducing their emissions and operating costs and increasing productivity.
"This collaboration with the Ford Pro team is a great natural next step to help us continue our progress in sustainable agriculture," said Karissa Kruse, Sonoma County Winegrowers president and internationally renowned sustainability champion. "A lot of farming families have a rich history with Ford, and with history comes trust. So as many of our farmers look for ways to lead in innovation and be a part of the solution, that trust is critical when it comes to investing in electric vehicles and in solutions to manage farming fleets. Our farmers love this pilot program; it's going to be foundational."