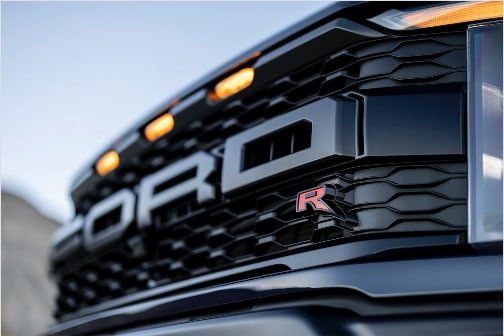 America's best-selling truck is getting yet another upgrade, this time making it perfect for intense desert conditions with the most power in an F-150 yet. The 2023 F-150 Raptor R is now available for ordering, and this desert-racing inspired truck is not to be missed.
"Raptor R is our ultimate Raptor," said Carl Widmann, Ford Performance chief engineer. "When customers experience Raptor R in the desert and beyond, it will make the hairs on the back of their necks stand up – and they'll love every second of it."
The 2023 F-150 Raptor R features an engine that was previously used in the Mustang Shelby GT500– a 5.2-liter supercharged V8 engine that delivers 700 horsepower and 640 lb.-ft. of torque. This is the most powerful engine in its lineup, and in the Raptor R, it's also the most torque-dense supercharged V8 in a production pickup.
The Raptor R also features a five-link rear suspension with extra-long trailing arms to help balance the truck's sheer power, helping to maintain the axle position over the difficult desert terrain of sand and dunes. A Panhard rod and 24-inch coil springs are also featured, creating more stability for the truck.
Off-roading in difficult places like the desert is no joke, so the Raptor R has a set of standard technology designed to make it easier. Trail Turn Assist is one of these features, helping drivers manage off-road turns more easily, as is Ford Trail Control, which is essentially cruise control for off-roading. Trail 1-Pedal Drive is also a helpful addition, controlling both the throttle and the brakes with just one pedal.
The power and prestige of the 2023 Raptor R is reflected in its styling as well. "Raptor R is visually designed like a desert predator to catch the attention of Raptor customers and off-road enthusiasts," said Tom Liu, Raptor R lead designer. "There are details big and small – from the more aggressive hood air extractor to the Code Orange 'R' badges - that visually communicate next level off-road performance under the Raptor R banner."
The Raptor R is available in eight different colors, including Avalanche and Azure Gray Tri-Coat, which are being offered as color options for the first time. Inside, you'll find classy black leather seats with strategically placed suede to create added grip, and a carbon fiber triaxial weave design on the doors, the media bin door and the upper parts of the instrument panel, making the Raptor R look as striking on the inside as it does on the outside.
Ordering is open now for the 2023 F-150 Raptor R, with production beginning in Dearborn later on in 2022.