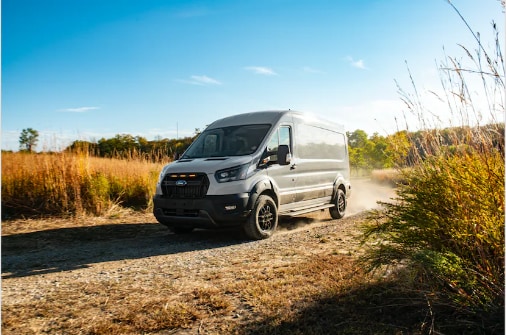 The demands that Ford customers put on their vehicles are always changing, and so for 2023, America's best-selling commercial van is changing to keep up! Ford Pro recently unveiled the new 2023 Ford Transit Trail. This new version of the popular van is upfit ready and adventure ready, perfect for van lifers and other wanderers.
The new Transit Trail offers three cargo van configurations, including medium and high roof models and a high-roof extended-length version. This van is highly customizable, and designed for extended travel in exciting locations. A 3.5-liter EcoBoost® V6 engine powers the Transit Trail with 310 horsepower and 400 lb.-ft. of torque, and Intelligent All-Wheel Drive with five selectable drive modes make it more adaptable to different road conditions. The van also features 3.5 inches of increased ride height, a track that's 2.75 inches wider, and 30.5-inch Goodyear Wrangler Workhorse all-terrain tires. An available Heavy-Duty Trailer Package gives the van a towing capacity of up to 6,500 lbs, a useful feature for travelers who need to haul boats, four-wheelers, snowmobiles, or other equipment. Useful tech features like Intelligent Access with push-button start, Reverse and Side Sensing systems, and Adaptive Cruise Control make the Transit Trail more adaptable and drivable both on and off the trail.
The high-roof, extended-length version of the Transit trail provides up to 487 cubic feet of space, ideal for upfitting. Both of the high-roof variants can accommodate people as tall as 6 feet, 5 inches, providing full standing room for even tall passengers. There are drillable areas strategically positioned for cabinetry, shelving, beds, and more, creating the possibility for many different configurations. Privacy glass and an optional roof vent fan are also great features for anyone who plans to spend extended lengths of time in their van, and an overhead shelf, illuminated sun visors, and swivel seats make the cabin more comfortable for long drives.
"No matter the task at hand – delivering packages or enjoying life off the grid – customers can rely on their Transit to get the job done," said Ted Cannis, Ford Pro CEO. "Our decades of experience in the motorhome industry and insights from the van-life community helped us design a vehicle that makes it easier for adventure seekers to start their next journey."
According to data from 2021 provided by Statistical Surveys, Inc., more motorhomes are built on Ford chassis than any other brand. With the 2023 Transit Trail, Ford is reaffirming its ability to serve the niche of motorhome and van life enthusiasts! If you want to learn more about the Transit Trail or Ford's other fantastic vans, make sure to contact us today!