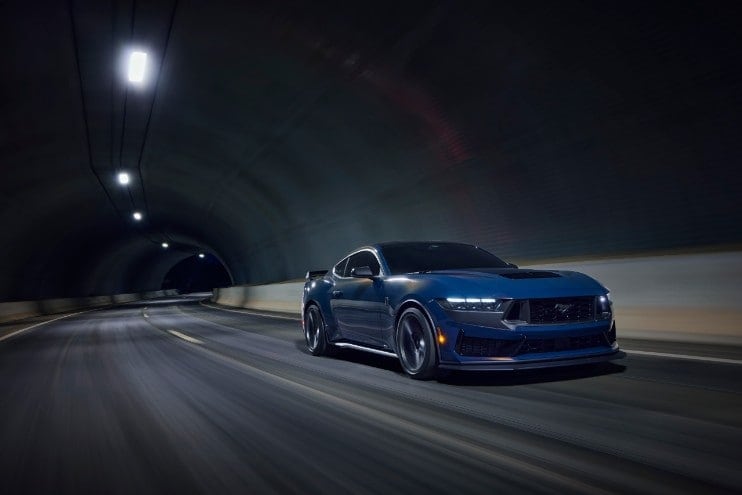 This past Wednesday, Ford revealed the first photos and information about the new 2024 Mustang Dark Horse. It's the first new high-performance model in the Mustang lineup since the early 2000's, following the production of the Mustang Bullitt when it came out in 2001. The main premise with the new Dark Horse was to create a Mustang that wasn't just a power-house for street driving, but also a contender on the track.
Arriving with a new, dark horse-head badge, the Mustang Dark Horse runs on the "the most powerful Coyote" V8 ever, Ford stated. Utilizing connecting rods taken from the GT500, Ford says the Mustang Dark Horse is capable of providing 500 horsepower for unmatched performance. Distinct in appearance from any 5.0-liter V8 before it, the Mustang Dark Horse includes a dual throttle-body intake design to improve engine breathing, accentuated by the open nostrils in the front grille.
"Investing in another generation of Mustang is a big statement at a time when many of our competitors are exiting the business of internal combustion vehicles," said Jim Farley, CEO of Ford Motor Company. "Ford, however, is turbocharging its ICE growth plan, adding connected technology, opinionated derivatives, and hybrid options to our most profitable and popular cars," he said.
Inside, the Dark Horse's dashboard has been completely remade for track use, with physical switches and knobs for operating things like the headlights, windshield wipers, side mirrors, and more, all located within a central panel for convenient use.
For incredible street-legal and track performance, the new Mustang's optional Handling Package bolsters aerodynamics even further with the most downforce of any all-new Mustang thanks to a specialized rear wing design. The Handling Package also includes stiffer springs, bigger front and rear sway bars and wider Pirelli Trofeo tires and 19-inch-by-10.5-inch front and 19-inch-by-11-inch rear wheels.
Stay tuned for the latest info on performance-driven vehicles like the new 2024 Mustang Dark Horse at Haldeman Ford in East Windsor! Feel free to browse our available inventory, contact us if you have any questions, or set up an appointment today!